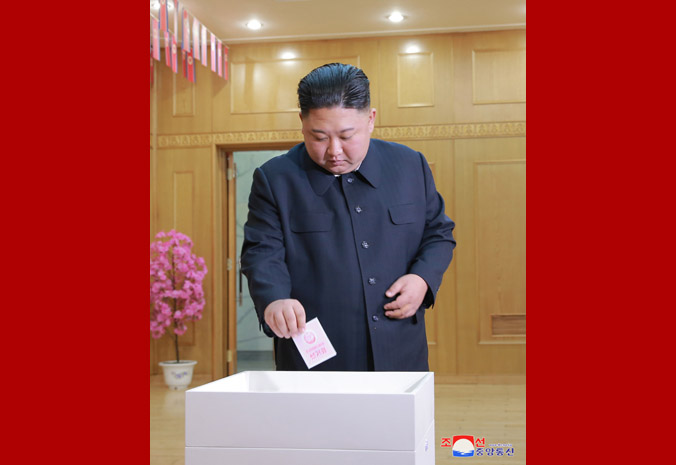 Pyongyang, March 10 (KCNA) -- Kim Jong Un, chairman of the Workers' Party of Korea, chairman of the State Affairs Commission of the Democratic People's Republic of Korea and supreme commander of the Korean People's Army, took part in the election of deputies to the 14th Supreme People's Assembly at Sub-constituency No. 40 of Constituency No. 10 on Sunday.
At 11:00 a.m., Supreme Leader of the Party, state and army Kim Jong Un arrived at the polling station set up in Kim Chaek University of Technology.
He met with Hong So Hon, president of the university, and Ri Song Uk, chairman of its party committee.
The teaching staff and students of the university enthusiastically welcomed him, offering the highest glory and warmest greetings.
He headed toward the polling station, waving back to the voters in acknowledgement.
He received a vote from the chairman of the election committee at Sub-constituency No. 40 of Constituency No. 10 for the election of deputies to the SPA and cast it for Hong So Hon, a candidate for a deputy to the SPA.
Talking to Hong, the Supreme Leader said that Kim Chaek University of Technology plays a very important role in all key sectors of socialist economic construction. He gave a pep-talk to him, asking him to work well so that the university could fulfill its responsibility and obligation as the eldest son most trusted by the Party to make a breakthrough in improving science and education, invigorating economy and bettering the standard of the people's living, and as a locomotive leading science, education and economic construction of the country.
Emphasizing once again the position and importance of the university in building a powerful socialist country, the Supreme Leader clearly indicated the direction and ways for it to follow and conferred a benefit for the education of the university and modernization of its scientific equipment and IT. -0-